Famous writer Emma Goldman once said "I'd rather have roses on my table than diamonds on my neck", and I would have to agree with her, especially on Valentine's Day. For centuries giving flowers has been a way to communicate emotions. Red roses were believed to be the favorite flower of Venus, the Roman goddess of love and beauty, thus they became symbolic of love and passion. They became popular Valentines flowers in the 17th century and continue to be the most popular Valentines Day flowers today, but there are other flowers that make great Valentine's Day gifts as well.
Flowers: The Universal Language of Love
Roses
With 10 million, mostly red, sold each year on this holiday these flowers still hold strong. Roses excite the senses with their intoxicating scent, soft, velvety petals, and beauty-I don't think there is any gift more sensual than a rose. In the language of love, red roses symbolize passionate love, pink symbolize admiration and appreciation, and lavender symbolize enchantment and love at first sight; of course, there are many more colors, each with a different meaning.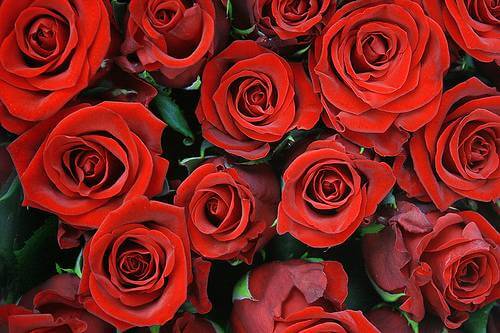 Image via Flickr By Valdiney Pimenta
Tulips
Perhaps you would like to break with tradition this year and send Valentines flowers other than roses. Tulips mean "perfect lover" in the language flowers – I think they are equally as romantic (almost) as roses. They are also available in the popular Valentine's Day colors of passionate red and soft pink, as well as other colors. The heart shaped, black stigma in the center of the tulip is said to symbolize a lover's heart darkened by passion. Tulips also continue to grow in water for a while even after they are cut, or they can be given as bulbs that can be planted in the garden after blooming in the right climate.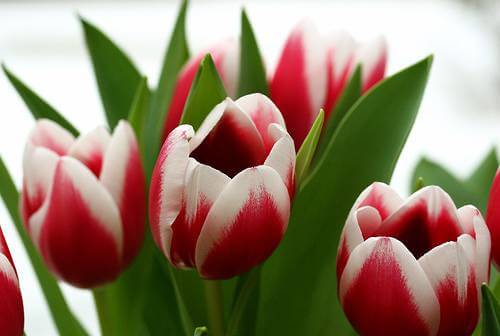 Image via Flickr By Liz Wes
Orchids
Orchids are some other gorgeous alternative flowers for Valentines Day. Orchids represent love, beauty, and refinement; making them a suitable gift for family and friends, as well as significant others. There are thousands of different types of orchids to choose from. The Phalaenopsis, or moth orchid, is the kind most commonly found in stores and it is available in shades of pink, white, lavender, and mixes of these colors. I love orchids because they can be given as a potted plant and grown year round, serving as a constant reminder of your love.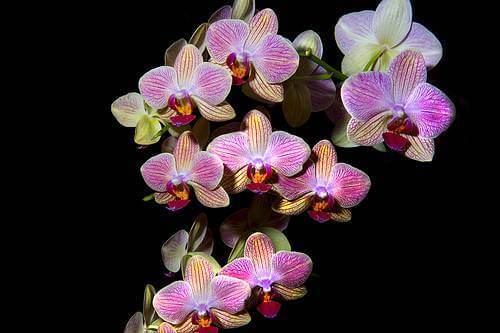 Image via Flickr By Seokhee Kim
Carnations
Carnations mean "fascination," although some sources say they represent pride and beauty as well-either way, they are an excellent choice for new lovers. They make a long lasting, hardy Valentines flower and come in a rainbow of colors naturally, but they can be dyed any color you like. They are very popular in Europe as Valentines Day flowers. Although carnations have a reputation of being a humble flower, they have a rich history and were in fact used in Greek ceremonial crowns during ancient times-it is believed that the name carnation comes from the word "coronation" from this practice.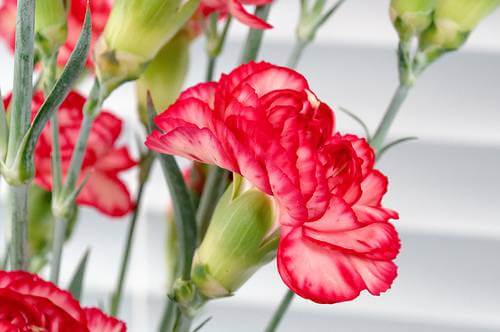 Image via Flickr By Dave Crosb
Daisies
Daisies represent innocence, loyal love, and purity making them excellent Valentines Day flowers for new lovers, couples that have been together for a long time, or for friends and family. When you think of daisies you may think of the traditional white- petaled variety with the yellow center disc, but there are also Gerbera daisies which come in cheery and vibrant colors. Gerberas can also be bought as cut flowers or as potted plants and eventually planted in the garden. I will share an interesting and little known fact about the daisy with you-the center disc is actually made up of hundreds of tiny tubular flowers, so you really get your money's worth from just one!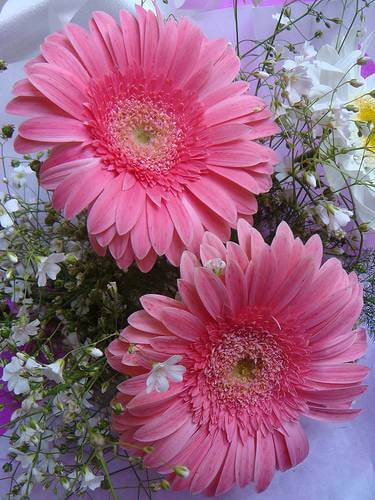 Image via Flickr by Parv
For more information on flowers for Valentines Day and flower meanings, please check out these links: