This year, as you celebrate the Memorial Day weekend with barbecues and time off spent with family, don't forget to honor the fallen soldiers in your life. Memorial Day is yet another holiday with a fascinating history. As early as ancient times, Greeks and Romans decorated graves of the dead with flowers, and laying wreaths on graves signaled high honors. Memorial Day as we know it was formerly known as Decoration Day and began during the Civil War; it is said that Southern women were decorating the graves of fallen Confederate soldiers as early as 1861. By the twentieth century, Memorial Day honored all fallen soldiers. Today, we still celebrate Memorial Day by putting flowers on the graves of our fallen soldiers who have fought for our freedom. Flowers for Memorial Day tend to be red, white, and blue, the colors of our country; here are twelve of the most popular.
Red Poppies
In World War I, a Canadian officer wrote a famous poem titled "In Flanders Fields" about the bright red poppies growing between the graves of fallen soldiers on the battlefields in Belgium. It is said to represent the blood of fallen soldiers, but also new life and hope amidst desolation. This is why you find VFW members giving away little red crepe paper poppies when you make a donation. Poppies also represent consolation and eternal sleep in the language of flowers, making them an excellent choice for Memorial Day. Unfortunately, poppies do not keep well as cut flowers, but if you can plant flowers in the cemetery you may want to consider this one.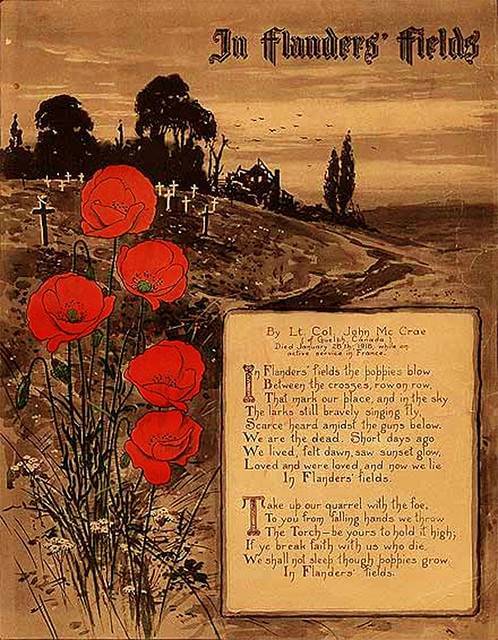 Image via Flickr by stoixeia
Iris
The blue iris means faith and hope, while white means purity (as most white flowers do). Blue irises look fantastic mixed with red and white roses.
Peonies
Peonies bloom right around Memorial Day, and that is why I have always associated them as being popular Memorial Day flowers. Additionally, peonies mean healing-what better way to heal your grief than by decorating a loved one's grave with these lovely flowers.
Red and White Roses
Red roses symbolize passionate love while white symbolize purity. It can be said that our fallen soldiers had a passionate and pure love for their country. Mix these with blue flowers or decorate with flags or ribbons to create a patriotic arrangement.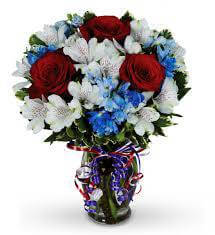 Hydrangeas
Hydrangeas are one of the few flowers that come in true blue, making them perfect to pair up with red and white flowers. Of course, they also come in white. Hydrangeas in general mean perseverance in the language of flowers, perfectly representing one quality that soldiers must have.
Gladiolus
In my opinion, the gladiolus is the perfect flower to honor fallen soldiers with. The spiked, showy flowers come in a rainbow of colors including red and white, making them perfect for Memorial Day arrangements that really stand out. Gladioli are also called sword lilies, or flowers of the gladiators, because of their sword shape-how fitting for soldiers. Even more fitting is what these flowers represent in the language of flowers: strength of character, sincerity, and remembrance.
Statice
It's no surprise that this everlasting flower represents remembrance. It can be dyed any color, and is commonly found in purple-blue. It serves as wonderful bouquet filler when paired with larger flowers.
Carnations can be dyed any color, even blue, and are very hardy cut flowers that last a long time. Red carnations symbolize admiration and say "my heart aches for you". Carnations are great by themselves, mixed in bouquets, or used to make flags, wreaths, and other shaped arrangements.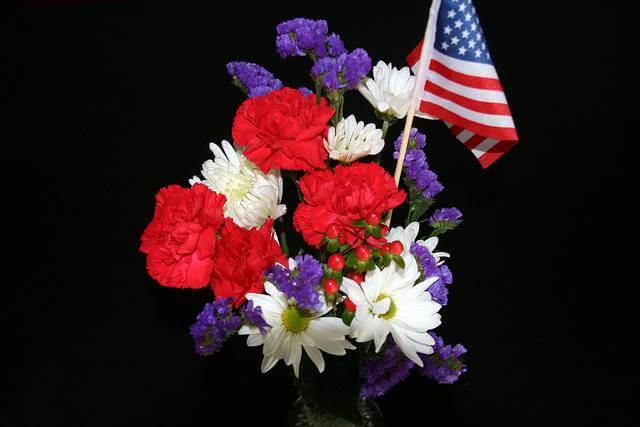 Image via Flickr by Richard Elzey
Chrysanthemums
Chrysanthemums are considered a funeral and grave flower in many cultures; in the United States they have a variety of meanings, but one is rest. Mums are flowers that hold up well when cut and the white ones can be dyed any color.
Lilies are wonderful to use on Memorial Day, especially white ones. White lilies represent resurrection and rebirth. These elegant flowers can stand alone or be paired with others, but they will steal the show. There are different varieties of lilies to choose from, and they can be found in red as well.
Forget-me-nots
The name pretty much says it all. These small delicate blue flowers mix well with larger red and white flowers like lilies and peonies, and add a touch of true blue.
Daisies can be found everywhere-your garden, growing wild, at the florist's, and even in the grocery store. They can be found in any color and they symbolize purity and innocence, something that the rest of us can keep thanks to the soldiers that have given their lives to protect our country.