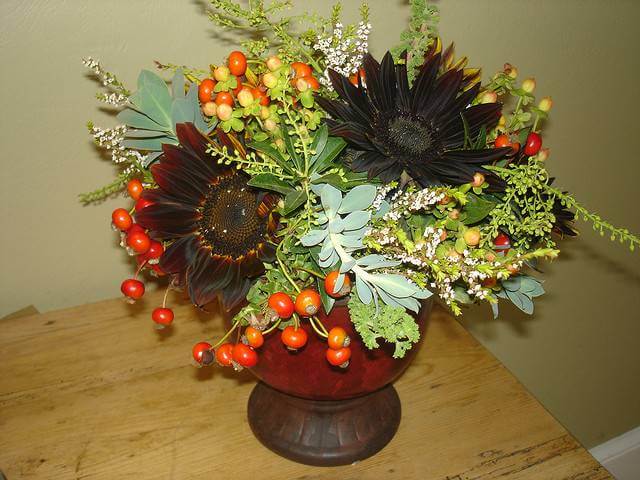 Photo via: julie (Flickr)
All around the world throughout history, different civilizations have had festivals of thanksgiving, generally revolving around the harvest which often occurred in fall. The first Thanksgiving in the United States in 1621 was also a type of festival celebrating the harvest and took place between September 21 and November 11. It is not surprising then that the most popular Thanksgiving flowers tend to be traditional fall flowers, or flowers that feature fall colors, and bloom at the same time as the harvest. One thing is certain about the different thanksgivings through time and cultures: they always have been a time to celebrate with friends and family.
Native Fall Flowers
If you are interested in history, perhaps you would like to use flowers that could have been present at the early Thanksgivings; that is, U.S. native wildflowers that bloomed in late summer and fall. A few of the many possibilities would be sunflowers, asters, campanula, butterfly weed, and goldenrod. These flowers also make great cut flowers and feature fall colors. I think sunflowers are especially appropriate for Thanksgiving — Native Americans used them as a food source and it is certainly a possibility the seeds were eaten at the first Thanksgiving. They look cheerful, warm, and festive. They carry the meanings of loyalty, longevity, and adoration, which I believe are perfect for family celebrations. Campanula, a pretty purple bell-shaped flower, represents gratitude, which is appropriate for Thanksgiving. Cheerful, yellow goldenrod symbolizes encouragement and growth, two things that the early European settlers needed. Both asters and butterfly weed feature beautiful fall colors and are stunning in arrangements.
Other Perfect Thanksgiving Flowers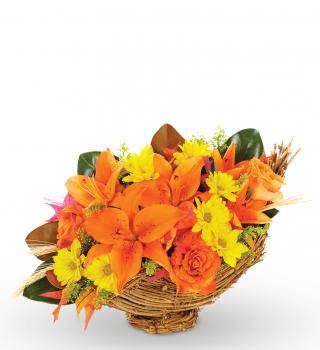 These flowers may not be natives but they are certainly just as lovely for a Thanksgiving celebration. Chrysanthemums are one of the most popular flowers in the floral industry for any occasion, but the fact that they bloom in fall and feature fall colors such as purple, rust, maroon, orange, yellow, and off-white make them Thanksgiving favorites. Roses of course are always well-loved and come in a rainbow of colors. In addition, a full bouquet of mature roses signifies gratitude. Alstroemeria flowers look great in mixed bouquets or alone and are lovely in shades of peach and yellow; they also represent friendship. Gladiolas add height and an interesting form to centerpieces and symbolize strength of character. Proteas and Bird-of-Paradise are both exotic choices with unusual forms in fall colors that are sure to gain attention at the table. Gerbera daisies always add cheer and color, and statice is a great accent flower that means remembrance. If you can't be home with your family for Thanksgiving, sending a bouquet is a wonderful way to express your love.
Accessories
So now that you have a cornucopia of ideas for perfect Thanksgiving flowers, here are some more tips on how to make them even more beautiful and meaningful. Consider using a family heirloom as a vessel — a special bowl from Grandma or a teapot from a favorite aunt can look quite beautiful as a vase. A family heirloom like this can spark fond memories and pave the way for family stories. Turkeys, cornucopias, and decorative gourds or pumpkins also make great centerpieces or vases. Tuck some seed pods, fall leaves, or greenery in with your flowers. Scatter acorns, pinecones, nuts, or mini-gourds around the table arrangement. Tall candlesticks look especially elegant placed in the midst of a floral centerpiece. Thanksgiving flowers go a long way in adding to the warmth, festivities, and memories of the holiday.