On the twelfth day of Christmas, my true love gave to me… twelve holiday-themed activities for me and my family! This holiday season, grab the entire family – the kids, grandkids, favorite family pets – and celebrate with festive fun that'll make this Christmas one to remember. Here are twelve ideas – think of it as an activity advent calendar. Do one each day leading up to December 25 or all in one go – get celebrating!
Hunt for Holiday Lights
Jump in the car and explore the neighborhood for the hottest holiday lights and decorations! Pack a thermos of hot chocolate to keep cozy, and a playlist full of holiday tunes for the ride.
DIY Christmas Stockings
Stuffing the stockings is only half the fun, this year, let the entire family get in on the fun by planning a day of arts and crafts with DIY stockings.
Holiday Movie Night
How many Christmas movies can you watch in one night? Get your winter pajamas on, prep some popcorn, and pop in your favorites! Take it to the next level by inviting everyone to dress up like characters from their favorite movie or bringing movie-inspired snacks to the showing.
Gingerbread House Building
Have a sweet day of building cool cookie creations with your loved ones. Depending on how many houses are being built, you can invite each participant to decorate a different house on the block! Take it to the next level by making a front yard or garden with frosting (or real flowers if you're feeling fancy).
Christmas Karaoke
Channel your inner Mariah Carey, grab the mic, and belt out your favorite holiday tunes with a Christmas karaoke session. Build your own collect, print out the lyrics, and let the good times roll!
Sweets for Santa
Satisfy Santa's sweet tooth with a home-baked treat you made as a family. The adults can make the batter and take care of the oven-related tasks, while kids can help use cookie cutters for the shapes and the icing/sprinkles for decoration. Taste is important, but don't forget presentation! Decorate Santa's spread with seasonal cheer; wrap the table in tinsel, add some red sprinkle, or serve it alongside your favorite holiday flowers.
Family Volunteering
Open your arms and hearts this holiday season with a family volunteering experience. From soup kitchens to food collections and banks, there are ways for every member of the family to get involved.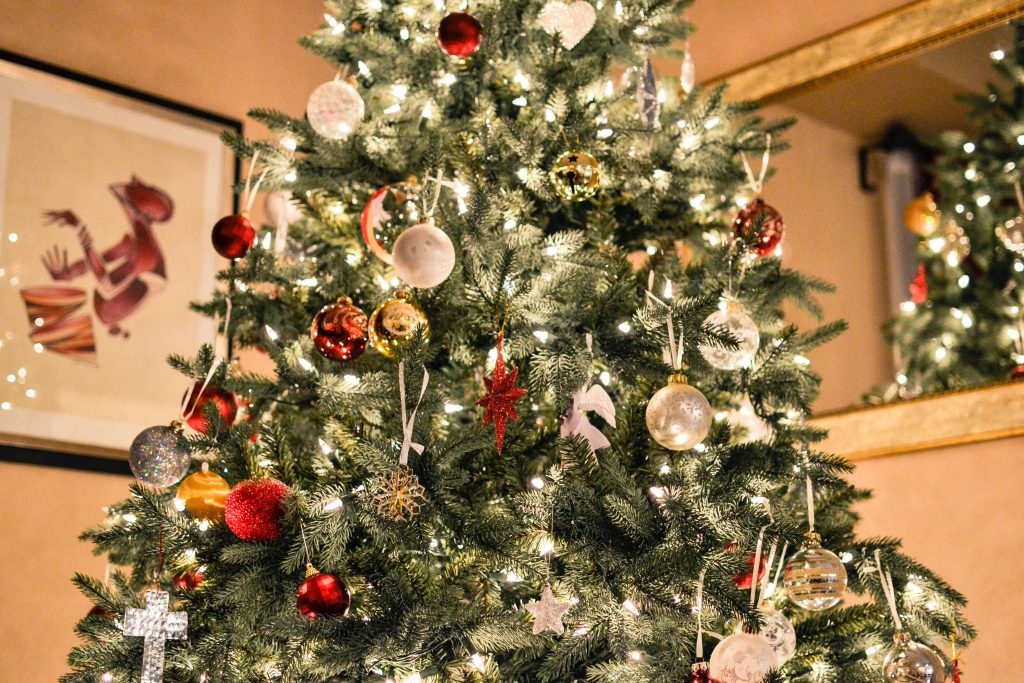 Make your own Tree Ornaments
This year, don't just decorate the tree with store-bought ornaments – make your own! Scour the web for your favorite kid-friendly Christmas ornament crafts, set up a crafting station and get to it.
Easter Egg Hunt on Christmas
Why should Easter get all the scavenger hunt fun? Set up a Christmas-themed search with a festive twist. Use mini stockings or tiny gift boxes and fill them with a festive treat. You can also make it a scavenger hunt, hiding hints on where the Christmas gifts are hidden – the choice is yours!
Christmas Around the World
Research Christmas traditions around the world, and make this year's celebration a global one! Some American holiday traditions are even borrowed from other countries – such as poinsettias for Christmas.
Family Photo Shoot
This holiday season is one of the scrap books, and you've got the photos to prove it! Organize a family photo shoot with some festive decorations (and snacks, of course). Make some DIY Christmas photo booth props, or make it a themed photo shoot such as Ugly Sweater, Christmas characters, or general holiday cheer. Why not let the youngest members of the family join in on the fun too? Grab an inexpensive disposable camera and let them behind the lens for a few shots. Make this a Christmas tradition and see how their photography skills develop and grow over time!
Holiday Cards for All
Unleash your inner artists with a Christmas card crafting station! Use photos from the family photo shoot, or simply draw, write, add glitter to Christmas cards for friends and extended family! You can also create cards for charity organizations that share the love with those who might not have family to celebrate or exchange cards with.