Throughout time, flowers have been a way to say what words just could not. This probably comes as no surprise to you, since flowers are still a popular way to convey feelings to the one you love. The Victorian era was a time when floriography, or the language of flowers, reached its height. In a time where speaking openly of emotions could be seen as inappropriate, speaking with flowers was a secret language in which lovers could communicate. Each flower had a different meaning, and on top of that, the color of the flower and the way the flower was given also affected the meaning. For example, if the flowers were given upside-down, they had a negative meaning. Problems could occur if giver and sender used different flower dictionaries. Today, when words fail you, you can still rely on the old-fashioned art of floriography to express your feelings.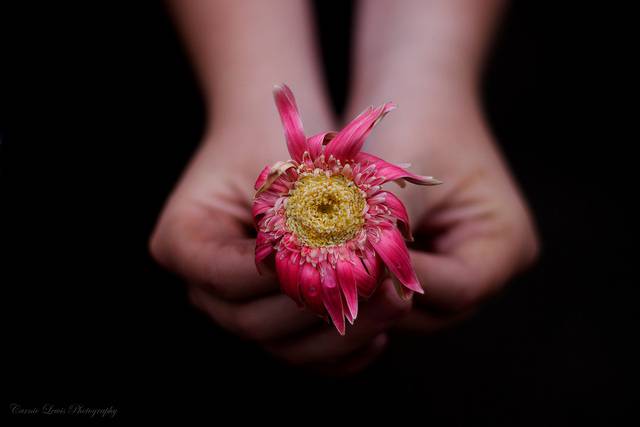 Image via Carnie Lewis (Flickr)
Love
There are countless flowers and thus countless meanings ascribed to them; however, one of the most popular feelings that people want to express with flowers is "I love you." It comes as no surprise that the red rose means "I love you"; however, there are other flowers that say it as well. Balsam signifies ardent love, and cactus says "my heart burns with love." Carnations in general connote devoted love. Red tulips are a declaration of love, and red chrysanthemums embody love as well. Give lilacs to symbolize the first emotions of love and gardenia to convey secret love for the recipient. Tuck some ivy into a bouquet to show faithfulness and wedded love.
Friendship
Perhaps you want to express feelings of friendship. Don't worry; there are plenty of flowers for that as well. Oak-leaved geranium symbolizes true friendship, as does the red geranium. Heather and sunflower both represent adoration. Periwinkles are given to symbolize sweet memories, and pinks are proof of pure affection. Petunias say "your presence soothes me." Magenta zinnias are a symbol of lasting affection, while mixed zinnias mean thinking of an absent friend; white zinnias represent goodness and yellow daily remembrance. Chrysanthemums in general say "you're a wonderful friend." Alstroemerias are often referred to as the friendship flower, and they make a lovely bouquet by themselves.
Thanks
Flowers are often given to say thank you, and some flowers say it better than others, although no flower would be unwelcome, I'm sure! One of the meanings of the bluebell is gratitude; Canterbury bells and bell flower also symbolize gratitude. Why not give a pot of these to a friend? Hydrangea says thank you for understanding, and dark pink roses represent thankfulness. A full bouquet of roses in bloom stands for gratitude as well. Sweet peas say thank you for a lovely time, while daffodils speak of regard and respect. For a more interesting way to say thanks, you could combine flowers that represent the admirable qualities of your friend and send a card that tells them what each flower means. Baby's breath means innocence and purity of heart. Calla lily means magnificent beauty, while lilies in general represent beauty as well. Chamomile embodies energy in action, and white chrysanthemum stands for truth. Coreopsis and gerbera daisies express cheerfulness. Dahlias mean dignity and elegance, while delphiniums connote fun. Irises signify wisdom and valor.
Sadness
Sometimes, we unfortunately need to express feelings of sadness. Bee balm symbolizes sympathy; buy a perennial bee balm plant for a friend who has lost a loved one. The bee balm will serve as a living memorial. Pink carnations say "I will never forget you," and red carnations say "my heart aches for you." A striped carnation suggests a refusal and says "sorry I can't be with you. I wish I could." Likewise, a yellow carnation expresses disappointment and rejection. Yellow carnations epitomize slighted love, and dead leaves unsurprisingly indicate sadness. Cyclamen expresses resignation and says goodbye. Campanula, although lovely, symbolizes grief. Purple hyacinth whispers "I'm sorry, please forgive me" and shows sorrow.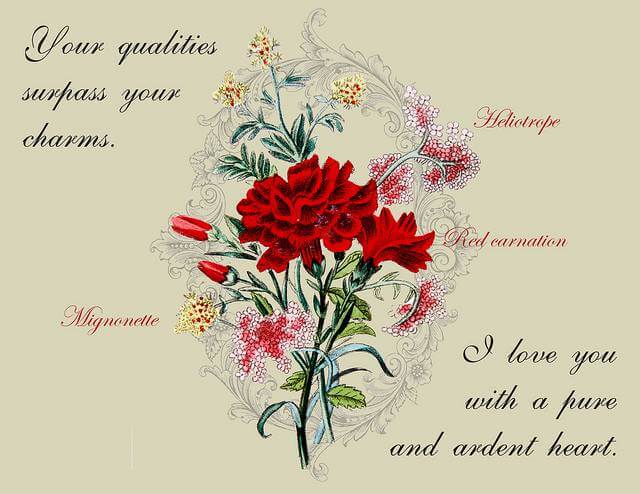 Image via Mann Library (Flickr)
No matter what you want to say, you can most likely find a flower that says it. I have mentioned a lot of popular flowers with commonly expressed sentiments, but this is just the tip of the iceberg. To me, floriography is fun, but for those of you who are intimidated by it, don't worry. It's hard to go wrong with roses, and roses can mean anything from desire to friendship; the same is true of chrysanthemums and carnations. I'm sure regardless of what flowers you send, they will be appreciated.