Flowers have been given to mark all great events in life, so it is no surprise that they should be given for graduations. This rite of passage is a time of great celebration, and the right flowers add to the ambiance of the day. Perhaps you are wondering how to incorporate flowers into graduation day other than giving a bouquet, or perhaps you need help in choosing the right flowers. Don't worry: I've got you covered – there is something for everyone and every budget. If you are sentimental, don't forget that many flowers can be pressed and dried; a dried flower from graduation would look great in a scrapbook or frame along with some graduation pictures.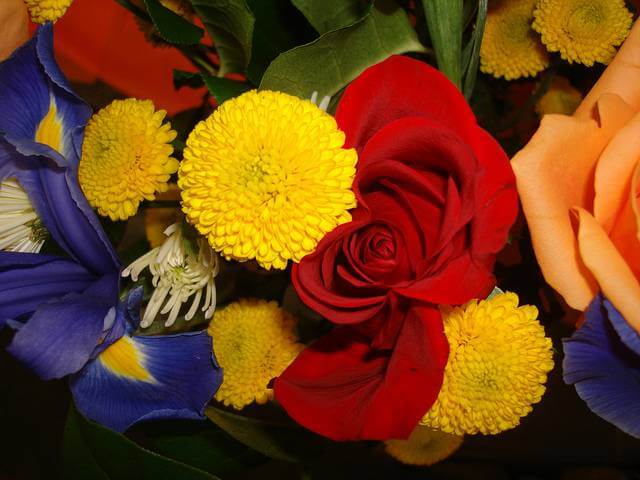 Image via Flickr from Caomai
School Colors
You can't go wrong by selecting flowers that match the school's colors. Roses, carnations, chrysanthemums, and tulips are flowers that come in a rainbow of colors to choose from; carnations and chrysanthemums can even be dyed. If one of the school colors is black, consider using very dark maroon or purple flowers that look black – calla lilies, tulips, dahlias, cosmos, and hollyhocks are some flowers that are available in dark purple or maroon. You could always just add some black ribbon or craft stones to a vase of flowers of the contrasting school color. If you are hosting a party for the graduate, consider using floral centerpieces at the tables in the school colors and scattering matching craft stones or confetti around them. A garland along the front of the table of honor is a feast for the eyes as well.
Leis
Traditionally, leis are given to someone arriving or leaving as well as to congratulate or recognize someone for their accomplishments; this is why we give leis to graduates. Flower leis are traditionally made from orchids, although they can be made from carnations, roses, plumeria, or leaves. Leis can also be made from candy and money, or these items can be added to a traditional lei. If you can't give the graduate a lei, consider giving a bouquet of orchids instead, since this is the flower leis are usually made of.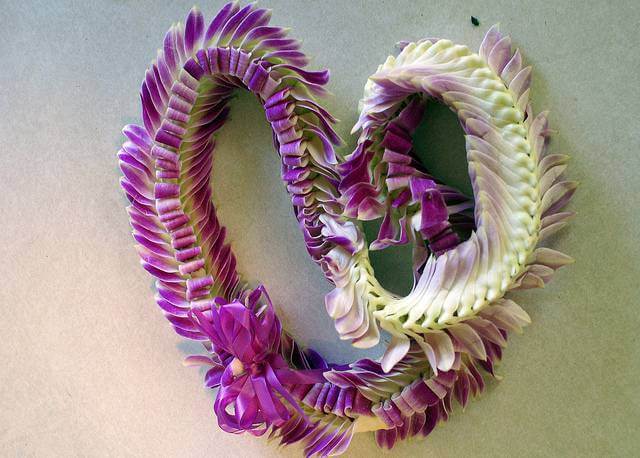 Image via Flickr from Makuahine Pa'i Ki'i
Corsages and Boutonnieres
It is traditional to give the graduate a corsage or boutonniere before the ceremony. There are a huge variety of these lovely little adornments to choose from, and it's likely that it will be hard to choose. If the graduate has a favorite flower that you know of, choose one with that flower. Otherwise, go with a corsage or boutonniere with the graduate's favorite color or school colors.
Color Meaning
Bright, bold mixed colors are associated with festivity and celebration. Yellow flowers are often given for a job well done and symbolize success and joy; purple flowers can also symbolize success along with dignity and accomplishment. Orange flowers represent enthusiasm, passion for life, and excitement, while green flowers represent new beginnings, youth, and good luck.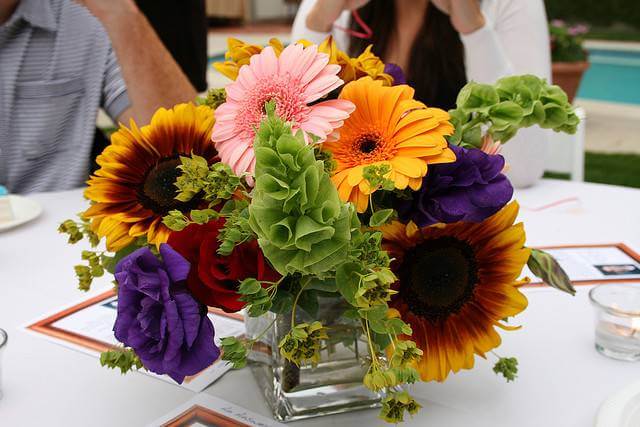 Image via Flickr from Jason Ippolito
Flower Meanings
In the language of flowers, there are several flowers that are appropriate for graduation. Bells of Ireland are among my favorite flowers for graduations, as they have a fascinating form and bright green color and they represent good luck. Camellias and white carnations also mean good luck, while peonies and stargazer lilies represent wealth and prosperity. The iris represents faith, hope, wisdom, and valor, and it says "my compliments" – a bright blue iris is also very festive-looking. Tropical flowers represent a sense of adventure, which is perfect for the new graduate just starting out in life. I especially like the meaning of the protea for new graduates, as it symbolizes change and transformation.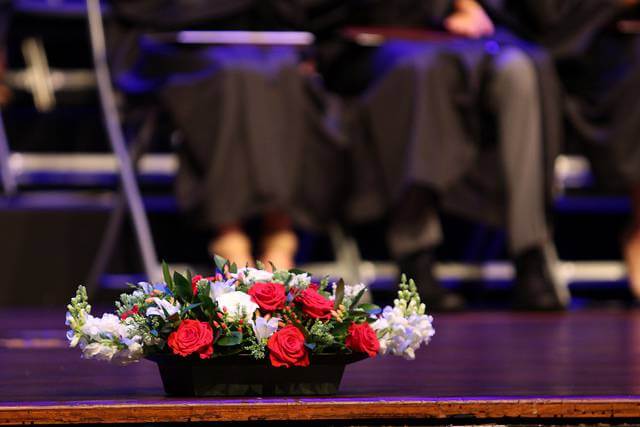 Image via Flickr from ryanhsuh31
Favorite Flower
If your graduate has a favorite flower, by all means, use it – this is their special day, after all! Depending on the flower, you may want to incorporate flowers with special meanings or colors. Paying attention to details like this shows how much you care.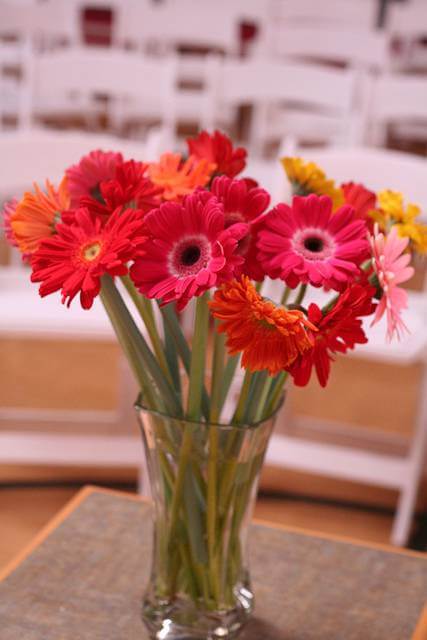 Image via Flickr from Christopher Schmid