Flowers provide a bit of nature and a lot of cheer to any home. Scientific studies have shown that flowers can provide peace, relaxation, energy, and health to those who view them, while taking away anxiety and worry. Flowers are also a way to give a space a new look for the season without making permanent and costly changes. A flower arrangement serves as a lovely welcome to any guest when used in a public place in the home. When you decorate with flowers, you give a gift to all who see them.
Choosing Flower Color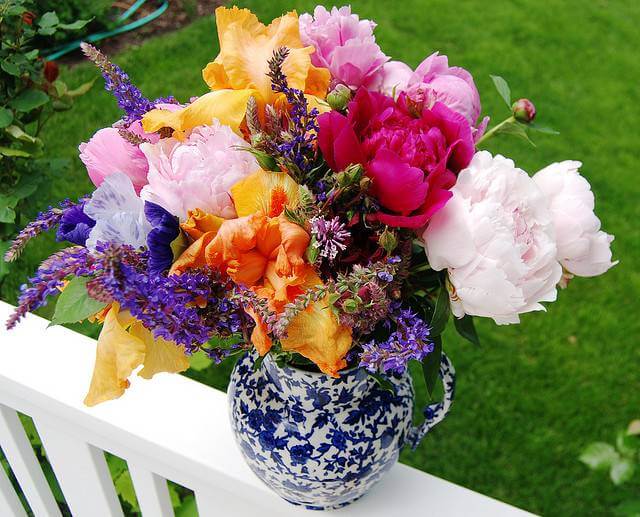 Photo via: Julie (Flickr)
There are no wrong flowers or colors; however, there are some tips you can follow for the best displays. Flowers that are all the same color or varying shades of the same color are quite popular right now. To give monochrome arrangements more interest, use flowers with contrasting textures. Bright, multi-colored bouquets easily draw attention to themselves without worrying about texture.
Choosing Flower Style
For a home with a modern, contemporary style, use flowers like lilies, flowering branches, orchids, and bird-of-paradise to complement that style. Flowers like daisies, chrysanthemums, and carnations work well in a traditional home. Brightly colored tulips and Gerbera daisies are great for play rooms. Of course, there is a rose for any space.
What Kind of Arrangement?
If you want your arrangement to be the focal point of the room, it should be large. Large centerpieces look great in large rooms. Scattering smaller bouquets around a room that is small adds a comforting, conversational feel. Consider using individual vases of flowers at each place setting instead of a single table piece, or a grouping of vases with single flowers instead of one large container.
Use the Freshest Flowers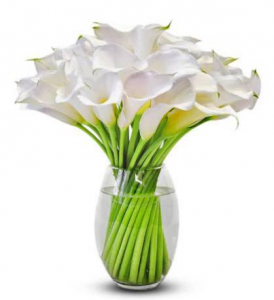 When you buy or make your own bouquet, you want flowers that are going to last as long as possible. If you can choose your own flowers at the florist's, choose flowers that have not opened yet; they will open over time in the vase and last longer. Check to make sure the flowers have no imperfections. When cutting flowers from your garden, cut them in the early morning as this is when they will have the most moisture, and choose ones that have not fully opened.
Water
Use tepid water for cutting stems and filling vases. If your water is overly hard, you may want to buy water with a lower mineral content. If you have softened water, do not use it for arrangements as the salt content is not good for the flowers.
Cutting the Flowers
For the best looking flowers, it is important to cut them properly. Whether you are buying flowers from a florist or using your own that you picked, you will want to remove approximately an inch of stem from the bottom with a sharp knife or shears. Cut the stems while under water and cut them at an angle. Cutting the stems under water prevents air from entering the stems and keeps the flowers hydrated. Also, be sure to cut off any flowers or leaves that are below the water line to prevent rot and bacterial growth.
Use a Floral Preservative
Flowers, like people, need food. Be sure to use the floral preservative packet that generally comes with flowers. You can also make your own by combining one part lemon-lime soda with three parts water and ¼ teaspoon of bleach. This will both feed your flowers and prevent bacterial and fungal growth.
Choosing a Container or Vase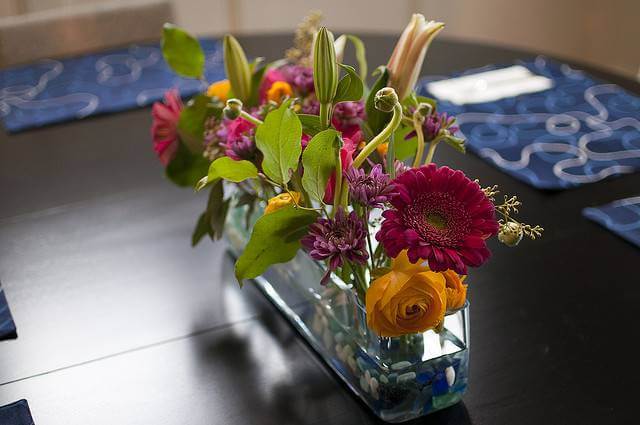 Photo via: Mike (Flickr)
I love using flea market and thrift store finds for flower arrangements. Old mason jars, watering cans, and beautiful bowls can all make fabulous containers for displaying your blossoms. The right vessel goes a long way in adding to the mood of your arrangement. Your bouquet should be one and half times as tall as your vase for the best display. You can always dress up a container or vase with lace, ribbon, raffia, or whatever strikes your fancy.
Use Florist's Foam or a Flower Frog
Have you ever wondered how florists keep their beautiful arrangements in place? The secret is to stick the stems in florist's foam or use a flower frog. The foam can be found in most craft stores or the floral section of chain stores. It should be fully soaked in the water and floral preservative mixture before using, and needs to be kept wet. Flower frogs are made of metal, ceramic, or of another material and usually have holes to insert the flower stems. They sit at the bottom of the vase.
Arranging the Flowers
Start by arranging the larger flowers first. Then, fill in the empty spaces with smaller, more delicate flowers and foliage. Use flowers with a variety of heights and textures. Using foliage that drapes over the edge of the vessel, such as ivy, adds extra appeal.
Where to Put Arrangements
If you ask me, fresh flowers should be in every room — even bedrooms and bathrooms. Most people choose to put them in foyers, living rooms, and dining rooms so that guests may enjoy their beauty; but I think even a small bud vase with a few flowers should be spared for every room. Wherever you choose to put your flowers, keep them out of direct sunlight, drafts, and heaters. They will last longer in cool, shaded environments.