Flowers are so beautiful that it is hard to believe that they are anything but good; however, many common flowers are extremely toxic to pets if eaten. I highly recommend that you keep the phone numbers for pet poison control handy and that you always know the common and scientific name of plants on your property so that you will be able to tell the medical personnel or poison control hotline staff what your pet ingested. Quick and accurate treatment will depend on this knowledge. If you have a pet that likes to eat plants or chew on things, then you should keep poisonous plants out of your pet's range or plant something else instead. Of course, the safest practice is to do your research and not plant poisonous plants on your property. Here are some of the famous femmes fatales of the garden to get you started.
Azaleas, Rhododendron species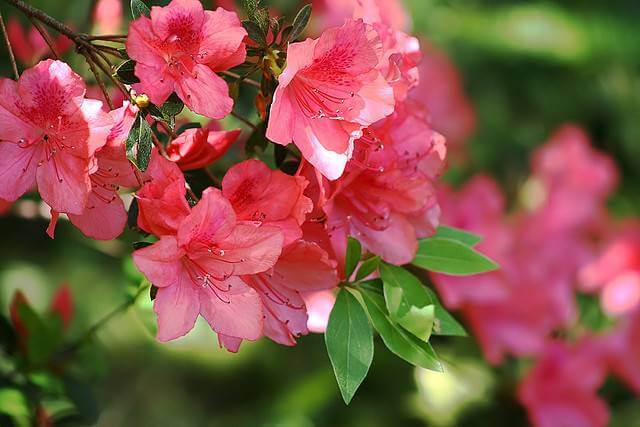 Photo by: aussiegall (Flickr)
You probably had no idea that this common shrub could do so much damage; I know I didn't until recently. When an animal eats azalea leaves and flowers, they feel a burning sensation in the mouth that is usually enough to deter them from eating anymore. Drooling, vomiting, diarrhea, impaired vision and muscle weakness may follow. In larger amounts, leaves and flowers can cause trouble breathing, coma and death. Even very small amounts can cause symptoms. Even the honey made from azaleas is toxic; in Greek times, it was known as "mad honey" as soldiers that ate the honey exhibited symptoms of insanity. Instead of azaleas, consider planting weigela, which also has beautiful showy flowers like the azalea.
Oleander, Nerium oleander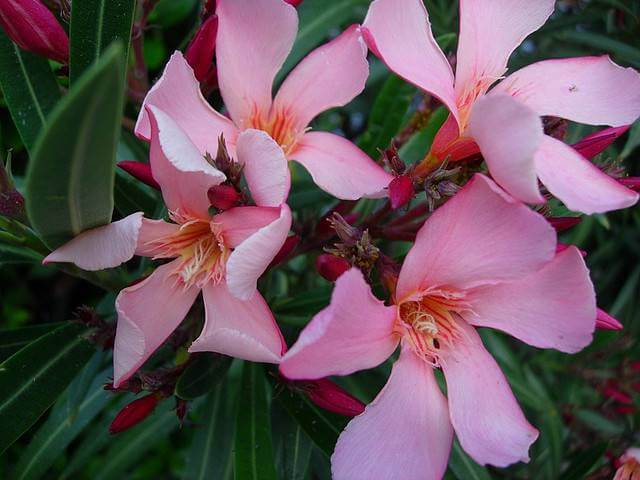 Photo by: Paige Filler (Flickr)
The novel White Oleander may have been a work of fiction, but the poisonous nature of the oleander is not. This book made the oleander famous. All parts of this seemingly sweet southern belle are toxic; even the vase water that oleanders have been in is toxic! Oleander contains cardiac glycosides that affect the heart resulting in cardiac arrhythmias, tremors, seizures, and even death. Lesser symptoms are drooling, nausea, and vomiting. There is an antidote for severe cases but it is expensive, and besides, who wants a pet to suffer through this kind of pain? The camellia is an equally beautiful flowering shrub for warm climates, and it is not toxic to animals.
Daffodils, Narcissus species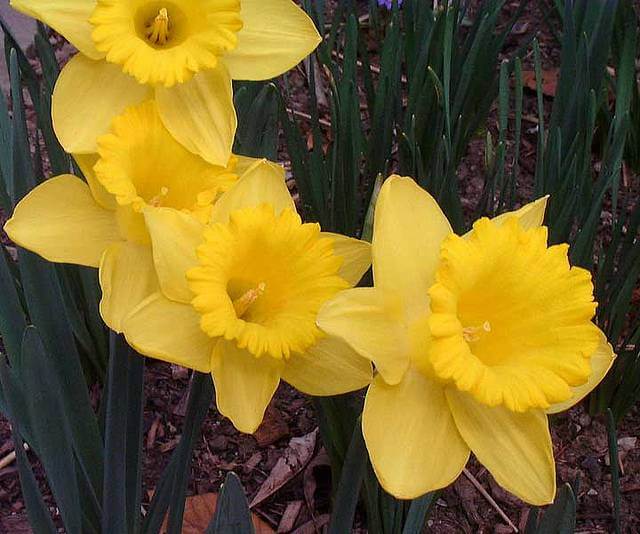 Photo by: Jack Pearce (Flickr)
These sunny yellow trumpets bring cheer in spring and sickness to any cat or dog unfortunate enough to graze upon it. All of the plant is poisonous but it is the bulb that is most toxic; consequently, dogs that like to dig are more likely to get sick from daffodils. An alkaloid called lycorine causes vomiting, abdominal pain, and drooling. Respiratory distress and cardiac arrhythmias are more severe results of eating daffodils. It is hard to replace daffodils with a less toxic option; even tulips and hyacinths pose dangers to pets. Gerbera daisies and spring blooming crocus (not to be confused with autumn crocus, which is toxic) are two spring bloomers that are safe for your furry friends.
Cyclamen, Cyclamen persicum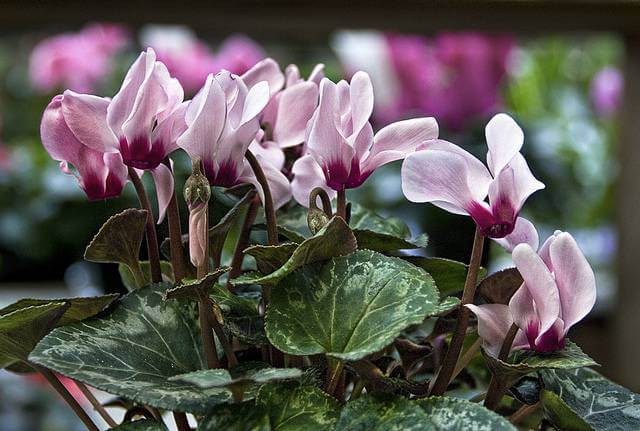 Photo by: liz west (Flickr)
Chances are you have seen cyclamen for sale as a potted houseplant in grocery stores, although it can be planted in the garden as well; the flowers are unusual in that the petals are reflexed. If you have a cat or dog that likes to nibble, beware. All parts of the plant are poisonous, but the roots are even more toxic. Like the other plants I have mentioned, ingestion of cyclamen causes vomiting, seizures, arrhythmias, and even death. Orchids and African violets are two safe houseplants that are just as lovely as cyclamen, so why not give them a try instead?
Monkshood, Aconitum species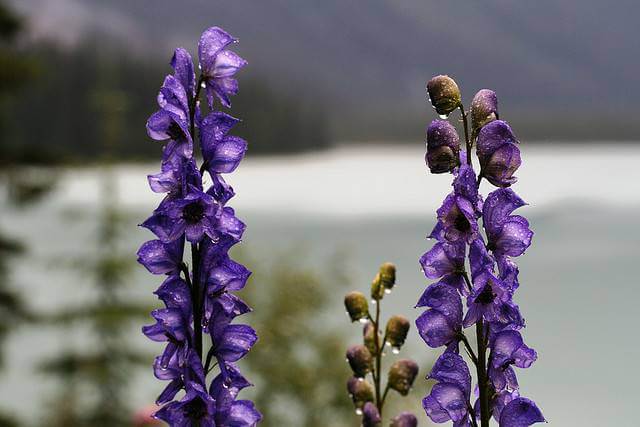 Photo by: hickoryrose (Flickr)
Monkshood is popular because of its beautiful blue flowers, but if eaten this plant could make your pet turn blue from respiratory distress! Monkshood is especially nasty since its poison can even be absorbed through the skin. Native Americans historically used the plant to make poison arrows. Even tiny amounts can cause fatalities. Early symptoms of poisoning are restlessness and drooling; later symptoms are muscle weakness, respiratory distress, and death. There is no cure. Balloon Flower is a tall spikey plant bearing near purple flowers, like monkshood; plant it instead and keep your pets and yourself safe.
Foxglove, Digitalis purpurea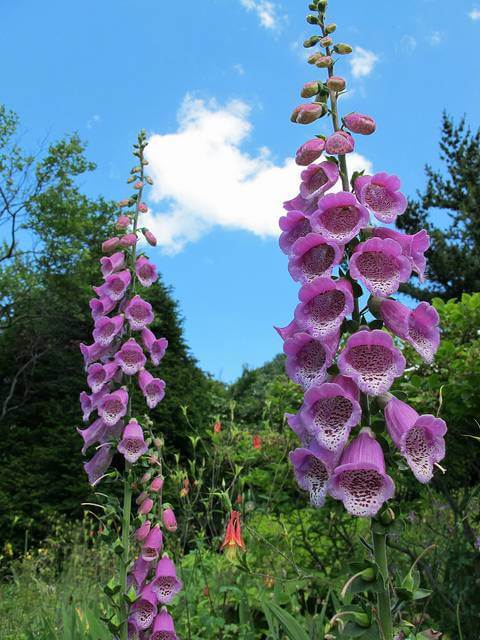 Photo by: Kristine Paulus (Flickr)
Like oleander, foxglove contains cardiac glycosides which when eaten cause abnormal heart rhythms and can lead to death. Also like oleander, all parts of the plant are toxic and even the vase water. Interestingly, digitalis is a heart medication made from foxglove and in small, carefully measured doses it treats heart conditions. If you are worried about your animal companions ingesting this tall beauty, I suggest you consider planting tall snapdragons. They are similar in form and size to foxgloves but unlike foxgloves they are annuals and will have to be replanted every year.