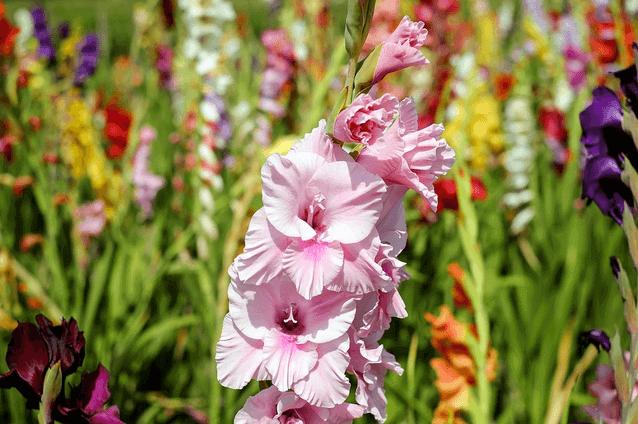 Photo via http://ow.ly/P2Hh3034Grg
It's very hard to overlook the stunning beauty of the gladiolus. This flower's sword-shaped leaves and brilliant color make it the perfect choice for the official bloom of August. The gladiolus is an ideal selection if you're looking to add large splashes of color to your garden. My post this week is all about celebrating this incredible flower. Enjoy!
Profile of a Gladiolus
There are about 260 species of gladiolus. It's a tropical flower originally from Africa and the Mediterranean. It was introduced to Europe in the 18th century and became a very popular addition to Belgian gardens in the mid-1800s. During this time, hybrids of this flower appeared all around Europe in various shades of green, purple, brown, and more. In the early 1890s, gladiolus plants began to grace many backyard gardens in America.
Gladiolus Colors
One of the best things about including this dramatic flower in your garden is the number of colors to choose from. I planted a row of yellow gladiolus plants next to a fence in my yard. The bright shade of yellow really lights up that area and supplies me with sunshine even on cloudy days. Plus, my fence provides the long stalks of the flowers with support as they grow taller. The gladiolus is also available in pink, red, white, blue, apricot, burgundy, purple, and orange. There are numerous multi-colored gladioli, including a white and red combination, red and yellow, as well as a blue bloom with streaks of white on its petals.

Photo via http://ow.ly/CO3M3034GJM
Caring for Gladiolus
Gladioli are relatively easy to care for. They should be planted in the warm springtime soil in an area that receives full sunlight. Also, be sure to choose a place where your flowers will have protection from strong winds. When you plant bulbs, also known as corms, be sure to space them about six inches apart to give each one room to grow. These plants need two to four inches of mulch around them to keep the soil moist. Remember to water your gladiolus plants if there is less than one inch of rainfall during the week in the summertime.
Fun Gladiolus Facts
A gladiolus symbolizes many different things. This flower symbolizes strength due to its sword-like leaves. Furthermore, it is known as the flower of the gladiators. It also symbolizes sincerity, moral integrity, and remembrance. In the Victorian era, a red gladiolus symbolized passionate love because its leaves could pierce the heart of a lover.
Traditionally, gladiolus plants are given to couples celebrating their 40th wedding anniversary.
The roots of this flower have been used to make a poultice for removing thorns from a person's skin.
Watch out! Some parts of the gladiolus are poisonous and can irritate the skin.
The gladiolus is also known as xiphium. The Greek word xiphos means "sword."
Gladiolus plants are sometimes used in memorial services as a way of paying tribute to a lost loved one.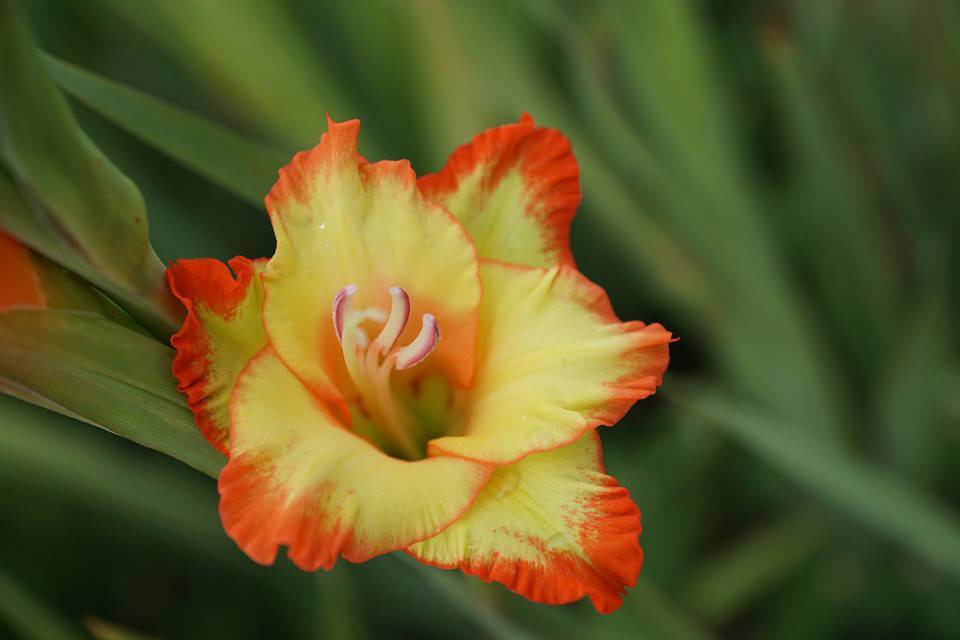 Photo via http://ow.ly/JYwV3034HIx
So try putting some gladiolus plants in your garden and make your collection of flowers a standout in the neighborhood!